---
Still tak kluar dari opis. My Achilles tendon still give some pang when walking on it. Rupanyer ada banyak gaks menda yang aku leh buat dari opis. Hahaha.
Tapi ari nih takda mood nak buat keja. Ntah pasal aper. Mebe sebab mood aku larik jauh ke utara kot. Ada family issue yang aku nak kena solve, camna pun aku still tak tau lagik. Ntahlah, jodoh di tangan Tuhan. Jangan lak aku yang nyesal.
Skang nih, tiap-tiap hari tukar wall paper ngan gambar yang tangkap kat Pulau Perhentian tuh. Lawa lah pulak. Ada sebarang trip ke sana, sure pergi lagik nih.
Gambor turtle. Ntah mat saleh mana lah yang buat turtle pasir nih.
Still reading Shadowfires by Dean Koontz. Damn scary.
Am listening to Lyla by Oasis. Really love this group.
---
Just came back to work. Got MC two days. The doctor said I sprained my Archilles tendon. All I can think of is Brad Pitt. Hehehe.
Anyway, now I do have some respect to Archilles. If he really suffered injury to the tendon, might as well die instead of being maimed and fell the pain all his life.
When you suffered sprained in the Archilles tendon, the best thing to do is to rest it. Don't massage or put cold presses to it. My experience is when you massage or put cold presses to it, it hurts damned more. Just apply some hot oil/lotion, such as Perskindol and rest it on a pillow.
After 2 days of rest, I can walk a bit more humanlike. Only stairs is a bit of a challenge to tackle.
Reading Dean Koontz - Shadowfires. Scaryyyyy.
---
Hahaha! At last, able to include comments in my blogsite.
Stupid me, paste the script in wrong portion of the template.
Anyway, leave ur comments, my lovelies. Just don't be vulgar, eh. There might be some kids reading the blog.
Sprained my feet muscle. The small muscle behind the ankle. The one used whenever you want to step on your feet. It hurts like crazy!!
When it happen? Sometime on Friday, still can walk at the time.
I went out to buy a new supply for my bracelet collections on Saturday, still can hobble.
On Sunday, I can barely walk! My mum and my bf advised me to put ice on it. Tuam dengan ais bagi bengkak hilang. It became more swollen! Until to the level I cannot even move the other leg, coz somehow it would cause spasm on my swollen feet. Conspiracy of the legs??!!
Tak tahan, my housemate wanted to bring me to the hospital. By the time, I cannot even move! Saper sanggup nak angkat? I suspect their combined weight would not yet equal to my weight. Anyway, I take a teeny bit overdose on the painkiller and in due cause, slept like a log.
Abt 2 hours later, the swell had gone down and the pain is at least boleh tahan lah.
Today, kena mintak sorang opismate drop-by and bawak Rina to opis. With my notebook and bad leg, I don't think I can join the early morning rush. If I fall, the notebook would surely get crushed.
This evening, would need to go back early. Hobbling like an old woman, I suspect it would take at least 15 minutes to make a common 5 minutes walk from the Komuter station to my house.
Lunch already, going to KL Sentral to buy Perskindol.
---
Just got the pix for the Pulau Perhentian trip from my friends.
Tak dapat nak load byk gambar, just a few je lah yer. Courtesy of
Azizul
and Rizal. Thanx for the beautiful and artful pictures. (These pictures are their art property, so please no copying)
My sand cake.
The recipe is very easy, take a shovel full of sand. Dump and design as desired.
Me in the water at Romantic Bay. Clear water and beautiful sands. Canteeeeeekkkkkk seehhhh!!
Jogger at Long Beach, Pulau Perhentian Kecil.
OK. That's all folks.
Happy weekend !!
Currently reading nothing. Am making professional looking 'jewellery' pieces.
Am thinking to buy actual case to store all my precious stones and crystals. Hmmm.....
---
Another few designs for Earrings :
Pink Beads.
Jade with Emerald Swarovski.
Dark Green Gold Dust with Peridot.
---
My latest Necklace/Choker/Anklet/Earring creations :
Anklet designed by a friend.
Necklace designed by a friend.
Dangling Amber earring.
Dangling Rose Swarovski and Heart Shaped Rose Quartz.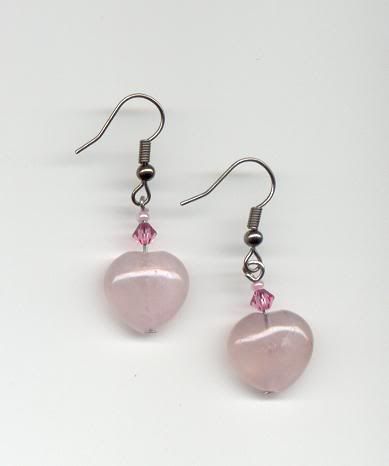 Choker Rose Swarovski and Heart Shaped Rose Quartz.
Nice aaa? Hehehe.
Most of the time, my friends would sit down with me and discuss on the colours, design and length of their items.
Really love the Dangling Amber tho. So cuteeeeee.
---
Maybank sucks. Literally.
Ok. Why I said that? This is the story....
I am a user of Lelong and Ebay. Meaning, I have many transactions with people using all the online banking, mainly Maybank. After 3 months, I think it is a high time for me to join the crowd of Maybank users.
Last month, I went innocently to KL Sentral Maybank to inquire about creating new account. I bring RM250 and excitedly asked the lady working over there on the procedure to create a saving account. She informs me that she need a bill with my house address befor creating an account. Since it is nearly 11.30 am on a Saturday, there is no way for me to go home, fetch a bill and run back to KL Sentral (btw, my house is in Pantai Dalam and I am using public transport). So, I said to myself, it's ok, we have next month since I have to use the money to pay for other bills.
Today, I bring many bills with my house addres on it, withdraw RM250, phostostat my IC and go to KL Sentral Maybank to create a new saving account. The lady working there inform me that since my house address is in Pantai Dalam, I have to create the account at Maybank Bangsar. What???!!!
Being near, does not mean convenient!
I asked the lady, is the Bangsar branch opens on Saturday or Sunday? The answer? Nope, it opens 9.15 am to 4.30 pm from Monday to Friday only. However, MinValley branch does open on Saturday. So, I ask the lady, can I open the saving account at MidValley? The answer? Nope, I can only open at Bangsar Branch.
Damn! I don't want to take at least 1/2 day leave from my company to go and open the account at Bangsar!!! It takes at least 1 hour to wait for the bus from Pantai Dalam. Rapid KL buses only 'rapid' in name, the same schedule (at least 1 hour per bus) still stands.
I ask the lady if there is any way to open a private account at KL Sentral since it is near to my office. Her answer, No. However, I can open an account related to my office. Honey, if I want to open a damned account related to my office, I would already bring a letter from my boss.
(ok, ok. deep breath)
I ask her, if there any manager that I can meet to discuss on the problem? Then, she informs me that I can open a personal account with my house address at the KL Sentral Maybank if, I bring a letter from my boss saying that I work at Plaza Sentral. What??!! What relation is it if I open a personal account with my boss?
Stupid procedure? YEAH!!!
I had open an account at BCB branch Dayabumi with no problem. That branch is no where near my house.
I think since they have so many customers, it is ok for them to invent procedures and rules that would inconvenient the customer. Maybank sucks, but still people have to use their bank for transactions. Especially the online community. Why oh why didn't the other banks open and upgrade their online banking services? Please BCB, compete with Maybank2U.
Now, I have to request my boss for the letter.
After that, I would go back to try open a personal saving account with Maybank at KL Sentral branch. My question is : Can I successfully open the account? Wait for my new post.
Am reading : The Dreamcatcher by Stephen King. Very interesting, a lot more clearer than the movie.
---
Alhamdulillah. Selamat sampai dari Pulau Perhentian.
The trip was great.
We drive starting from Thursday afternoon, from KL to Trengganu. Stay a night in Besut. Then on Friday afternoon, take a boat to Pulau Perhentian Kecil.
The sea is a bit rough, which makes the trip very exciting. Due to the rough sea, our boat anchored at Coral Bay. We jungle trip for about 10-15 minutes before arriving at Symphony Chalets at Long Beach.
Our activities inclusive of snorkelling, watching mat and minah saleh sunbathing, watch the sunrise, take loads of pictures and for the ham radio people, what else except talking and playing with their radios?
For snorkelling, we went to the corals near Perhentian Island Resort beach, Basi Bay, Romantic Bay and Turtle Bay. Saw loads of beautiful Nemos and Dorys, a couple of sea urchins, a turtle and quite a number of sea cucumbers. The corals are simply breathtaking, literally. The fishes are friendly, especially at Basi Bay. Try to float around, and these fishes would simply follow you, nibbling at your fingers. Bring some bread, and you can feed these fishes and take a few pictures of you being surrounded by aquatic friends.
Even though the monsoon is not yet officially over, the trip is a success. Yeah, we are not able to get loads of fishes for the BBQ or go to Shark Point. But hey, the rest are fantastic.
Yet to get the pix. But I will load some of it up later.
Ciao. Have to work now.
---