Yey! The Chinese New Year is just around the corner.
Holiday for 1 whole week!!
What to do? This time, I would not brave the traffic back to Penang. Last year I spend 9 hours on the bus, while usually it took only 4 1/2 to 5 hours to arrive.
This time, I would stay quietly in KL. Most probably stringing my beads.
Below are some pix on the new bracelet creations.
Swarovski Crystal Pearls with 4 mm Bicone Amethysts and Light Sapphire.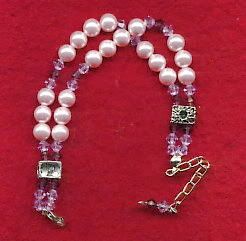 Free Style Pearls with Rondelles and Citrine.
I had customized a necklace made from black and siam swarovski, with rondelles and rhinestone ball. But, had not the chance of capturing the pix before the owner gave the necklace as a birthday present to her sister. Yie ha!
Am not reading anything. Instead spending minimum 2 hours each night playing with my beads.