Yey!! Check out my bracelet creations.
Classic Burmese Jade with Tiger Eyes and seed beads.
Pretty Rose Quartz with Amethyst Chips and seed beads.
Elegant Dark Green Gold Dust with Citrine and Peridot.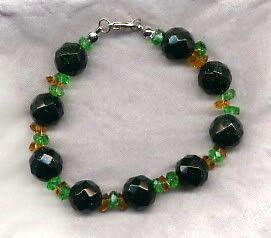 Cute Tigers Eye with Orange Beads.
All the images are hosted at
PhotoBucket
.
Sometimes, I posted some of it at
eBay.com.my
to sell. Just for fun. And I reaaaaaallllyyyy need the ROI on this ASAP.
Rite now, all of my creations are sold at
Moskano
web site. Very cheap, since this is actually a hobby, not a money making industry. Well, not yet anyway... ;)
Cheerios, very sleepy since I slept at 2.++ am last night completing my latest bracelets creations.